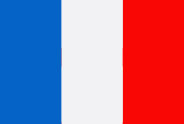 Serre-Chevalier, Hautes-Alpes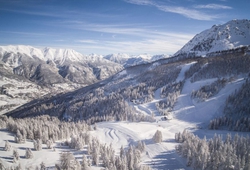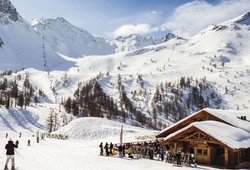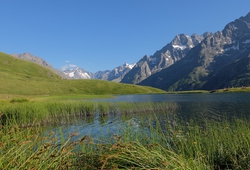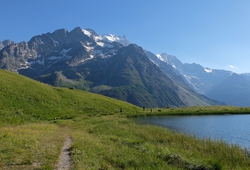 The dual season resort of Serre Chevelier at the entrance to the Ecrins National Park providing the backdrop to some of the Alps most outstanding scenery and in the heart of the Oisans mountains, takes its name from the peak that dominates the Guisane Valley.
Made up of of the town of Briancon, the 3 flagship villages of Chantemerle, Villeneuve and Monetier les Bains, along with 13 modern hamlets and old style villages, the outstanding 250km ski area provides well interconnected pistes, an abundance of quality and great terrain, wonderful beginner areas in each of the villages and an abundance of off piste terrain to satisfy the lover of extreme skiing. An area really something quite special, one of the best features is its suitability to all levels of skiing.
Located in the Southern Alps in a big south facing authentic valley in the Hautes-Alpes on the borders of Italy between the Col de Lautaret and the UNESCO World Heritage fortifications of the town of Briancon, the resorts altitude ranges from 1200 - 2800m ensuring in a high mountain atmosphere, while the the slopes are protected from the sun running in a North and North East direction.
With the highest lift sitting at 2730m, a 1600m vertical drop and an 8km longest run, the 250km "Le Grand Serre Che" ski area serviced by 74 lifts, is one of the biggest ski areas in France. With snow cover exceptionally good already, many of the slopes have snow making facilities for more guaranteed skiing throughout the season. Serre Chevelier is also regarded as one of the top snowboarding destinations in France, thanks to its outstanding natural terrain and off piste availability.
Serre Chevelier is part of the larger Grand Galaxie 566km ski area pass that allows skiers and snow boarders access to the slopes of Les Deux Alpes, Montgenevre, La Grave and Puy St Vincent. This 5 star rated area for beginner, intermediate, expert and snow boarders provides any level of skiing you want.
Getting to Serre Chevelier is easy with Turin airport just 90 minutes away. Grenoble airport can also be found just 2 hours away with a weekend bus service operating in the winter from both airports. For those that dont want to fly, there is a direct night train from Paris to Briancon in the heart of Serre Chevelier, while the TGV station of Oulx in Italy is only 30km from the resort taking just 4 hours and 40 miunutes from Paris.
Getting around within the Serre Chevelier vallee is also easy with the village ski bus connecting all the resorts, hamlets and villages that operates from 8:30 - 5:30pm. There are also 11 taxi companies that operate through the Valley should you want to explore other villages at night.
For those that dont ski there is plenty to entertain them. Two ice skating rinks, snoe shoe walking, cross country, toboggan run, dog sledding, indoor tennis, squash, bowling, indoor swimming pools, cinemas and many spa's including Les Grands Bains a natural hot water and spa of 4500m2 open till 10pm.
In Serre Chevelier you have a wide array of fine dining to choose from including the Michelin Guide rated Le Valentin as well as more casual restaurants. Briancon also offers its own Casino complete with its own brewery. The new Folie Douce Hotel planned for 2021 will also give Serre Chevelier a great apres ski base.
In the summer, Serre Chevelier comes into its own as a true dual season destination. Briancon at an alitude of 1326m, the highest town in Europe, has its own strong identity that transcends winter sports. Fantastic shopping, fountains, squares, ancient streets and twin towered eighteenth century church as well as several museums and theatre make up a myriad of choice. Its 17th centuary walls and fortifications also provide a UNESCO World Heritage site.
Lakes at both Chantemerle ad Les Salle les Alpes provide outdoor swimming experiences or there are several leisure centres to choose from including an aquatic centre complete with slides.
With the Ecrins National park on your doorstep that has 210 of the 440 known bird species in Europe that includes the Golden Eagle, there are 370km of hiking routes available to choose from.
For those that like road biking, some of the worlds most famous ascents and descents are to be found here, undetaken by the Tour de France as it passes through the Serre Chevelier Valley, making the area a mecca for those that want to test their endurance on some of the toughest passes in France.
Climbers can also find a huge array of terrain to choose from with levels from 3 - 7+ across 75 crags. Limestone, quartz and granite rock formations provide varied and diverse climbing experiences.
With 2 major rivers running through Serre Chevelier there are plenty of rafting experiences to try. With the resort boasting a mediteranean climate and 300 days of sunshine a year, choose from rapids and drops for those seeking thrills, to calmer areas perfect for beginners and children.
For those seeking properties for sale in Serre Chevelier, please contact us and we'd be pleased to assist you in your search.
---
Selected Property For Sale in Serre-Chevalier, Hautes-Alpes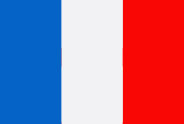 Serre-Chevalier, Hautes-Alpes
2 double bedroom apartments under construction for a Spring 24 completion (A)
ref. 004182 | Price € 330,000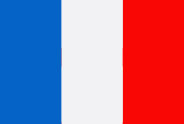 Serre-Chevalier, Hautes-Alpes
Brand new off plan 5 bedroom chalet to be built in the 250km Serre Chevelier ski domain (A)
ref. 004181 | Price € 1,305,000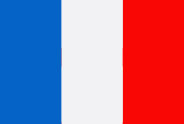 Serre-Chevalier, Hautes-Alpes
3 bedroom apartment under construction for a Spring 24 completion (A)
ref. 004184 | Price € 520,000