About Us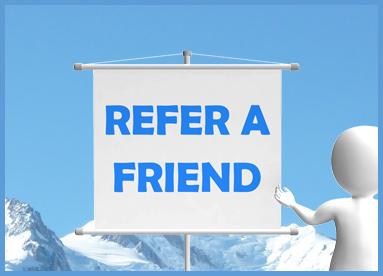 Recommend us to friends and family and earn yourself £1000, should they go on to buy a property in the Alps through us.
It couldn't be more straightforward, all you need to do is email us at info@alpinepropertyinvestments.co.uk, with the name, email address and contact telephone number of the person you want to refer, along with any additional details about their search that might help and then leave the rest to us.
Terms and Conditions apply
To receive £1000 (the referral fee), the person you refer to us must go on to purchase a property through Alpine Property Investments.
There is no limit to the number of people you can refer, but you must have obtained the permission of the person whose details you send through, that they are happy to be contacted by us.
For a referral to be accepted we require the person's full name, email address and contact number, along with the same details for the person making the referral.
A referral will only be accepted, if the person who is referred is not already known to us or any of our partners.
A referral will only be accepted If the person referred has not previously been in contact with us before.
The referral fee of £1000 will only be paid once the final deed of sale has been signed and Alpine Property Investments are in receipt of the commission payable.
The referral fee will be paid by Bank Transfer and payment made within 28 days of receiving the commission payable.
Referral fees will not be applied retrospectively.

By providing us with your contact details you agree that we will use your personal data to administer the referral scheme. You also consent to us using your personal details to contact you will information about Alpine Property Investments properties and services.

If you pass referrals details to Alpine Property Investments, you confirm that you have that person's permission to do so.
Alpine Property Investments reserves the right to claim back any referral applied, if fraud or abuse is suspected, or a referral fee is paid in error.
Referral payments will only be paid on property purchases in excess of €200,000 or the equivalent value in other currencies.
Self-referrals will not be accepted, nor those of a partner/family member if you are purchasing together.
Alpine Property Investments reserves the right to withdraw this offer at any time.