Press articles from the USA
Extract from "Killington Wins a Date with Winter Dew Tour"
July 28th 2010 By Joe Cutts, Deputy Editor, SKI Magazine

A 22-foot superpipe helped this Vermont resort win the bid.

The Winter Dew Tour announced its 2010-11 dates and venues this week, and the Beast of the East has won the right to host the east coast stop on the three-year-old circuit, which showcases top skiers and snowboarders in slopestyle and halfpipe events and is televised live on NBC.
The reason for the switch: Killington's 22-foot halfpipe, which former east coast Dew host Mount Snow, Vt., lacks. These so-called superpipes are preferred by the top skiers, who now have Olympic ambitions, pending the International Olympic Committee's decision on whether to include ski halfpipe at the 2014 Winter Games. An announcement is expected by early November; the FIS International Congress has endorsed the addition.
The three-stop Dew Tour starts in Breckenridge, Colo., Dec. 16-19, hits Killington Jan. 20-23, 2011, then crowns its champions at Snowbasin, Utah, Feb. 10-13, 2011. Breckenridge is now the only venue with the old-style 18-foot halfpipe

Extract from "Four Ski Gateway Cities Among Kiplinger's 10 Best"
June 9th 2010 - Ski net

Kiplinger's names four Ski Gateway Cities among it's "10 Best Cities for the Next Decade."

Kiplinger's Personal Finance Magazine ranked its "10 Best Cities for the Next Decade" today, and four major ski gateway cities were included on the list. All of the cities listed are prosperous, have plenty of growth potential, and are projected to generate a surplus of jobs over the next 10 years.
#8. Burlington, Vermont.
Home to the University of Vermont, Burlington is driven by environmentalism and locally-produced food, two of the reasons it made Kiplinger's list. We're all about the skiing, though, and there are some terrific options nearby.
Stowe Mountain Resort (45 minutes), Mad River Glen (50 minutes), Smuggler's Notch (55 minutes) and Cochran (20 minutes) are all within an hour of this forward-thinking mecca, and if you want to ski New England favorite Sugarbush, you're looking at a shade under two hours.

Extract from "Vail/Beaver Creek Selected To Host 2015 World Alpine Championships"
Ski net - June 3, 2010 - 5:16pm

The International Ski Federation announced today that it had selected Vail and Beaver Creek to host the men's and women's World Alpine Ski Championships in 2015.

The FIS ruling council selected the North American venues over Cortina, Italy, and St. Moritz, Switzerland, thus denying Europe its eighth consecutive Championships.
But the Colorado resorts are no rookies when it comes to hosting world-class skiing events. Both strong supporters of the World Cup circuit since its inception in 1967, Vail and Beaver Creek have hosted numerous elite, international speed and technical events. Among them were the 1989 and 1999 World Championships as well as annual men's World Cup races. Beaver Creek's Birds of Prey course - one of the most exciting and challenging on the men's World Cup circuit and the only U.S. stop on the tour - will host both the men's and women's speed events as well as the men's technical races in 2015. In anticipation, Beaver Creek will upgrade the venue, construct a new restaurant at Red Tail Camp (the finish area) and design a new women's course, expected to rival the men's in speed and challenge. The women's technical events will take place next door, on Vail's Giant Steps trail.
Vail's own Lindsey Vonn was among the first to congratulate her hometown after the announcement was made. "Wooohooo!" she Tweeted. "I'm so excited!! Congrats to everyone in Vail." As a budding racer, Lindsey volunteered at the 1999 Worlds and has since won two World Championships golds (2009 downhill and super-G). If she competes in 2015, she'll race on the trail adjacent to "Lindsey's," which was renamed in her honor after her 2010 Olympic and World Cup victories.
Click here to see the Vail delegation's reaction upon hearing the announcement.
"We are thrilled to focus international attention on our iconic slopes and community during the winter of 2015," said Vail Resorts CEO Rob Katz. You can follow the developments at beavercreek.com. Also, get a preview of the big event this winter, when the men's World Cup returns to the Birds of Prey course December 3-5, 2010.

Extract from "Vacation Home Sales on the Rise Across US"
Wednesday, May 12th, 2010

From Hamptons to Tahoe, Summer Home Sales Edge Up
Prices for luxury second homes remain far below boom levels, but are beginning to climb in prime areas
By Venessa Wong
In April, Texas billionaire Kelcy Warren bought a 3,500-acre trophy property, the Boot Jack Ranch near Pagosa Springs, Colo. The retreat has about 77,000 sq. ft. of living space, seven lakes, and miles of pastures. The sale, worth $46.5 million, was the biggest U.S. residential transaction so far this year. What sweetened the deal was the discount: Warren, who made a fortune in the pipeline business, got the property for 53 percent of the original asking price - $88 million, which had already been reduced last year to $68 million.
The Boot Jack Ranch was an "exceptional purchase," says the listing agent Bill Fandel, managing broker at Peaks Real Estate Sotheby's International Realty. Sellers are generally more flexible now and buyers looking to acquire signature properties have an incredible opportunity now to negotiate in the second-home market, he says.
The price of properties in countryside, coastal, and ski resort locations, often used as second homes, fell by more than 12 percent in 2009, as reported in March by international property broker Knight Frank. Prices have stabilized but the market remains favorable for buyers, who have started spending again as the economy experienced a shaky recovery in the first quarter.
Sales in many vacation home markets are surging above the low levels seen in early 2009. According to regional first-quarter reports, unit sales in the upscale Hamptons resort community in Long Island, N.Y., increased 124 percent year-on-year, according to the Corcoran Group. In the Reno-Tahoe market, sales of homes priced over $1 million doubled in Tahoe City, Calif., and were up 33 percent in the lake's East Shore in Nevada, reported real estate firm Chase International.
"If the value is there and the seller can accommodate the buyer's interests, we'll see continued increases in activity across the top-tier market," says Fandel.
"My business is exploding"
The trend in the luxury market reflects the overall improvement in vacation home sales in the U.S., which rose last year by 7.9 percent, according to data from the National Association of Realtors. Across all price segments, 3 out of every 10 vacation home buyers in 2009 paid cash, reported NAR. In the $5 million-plus segment, a majority of purchases are made in cash because credit has contracted, Fandel says.
As buyers start to purchase higher-priced properties, the median transaction price has been increasing. In this year's first quarter, Sotheby's International Realty reported an average year-over-year price increase of 25 percent on open sales.
"My business is exploding," says Joyce Rey, executive director of Coldwell Banker Previews International in Beverly Hills, Calif. Rey, who has some of the country's most expensive residential listings, such as the $125 million Fleur de Lys and the $75 million Hummingbird Nest Ranch, recently put $37 million in escrow for three properties in one week - a record in her career.
Rey says interest has been coming from American and foreign business executives, entertainment moguls, and celebrities. Still, in this price range, there is a limited buyer pool and properties can take a number of years to sell, even in a strong economy.
Buyers are starting to come back and the confidence level is up, but they seem to be taking a more modest approach to lifestyle decisions, says Shari Chase, founder of Chase International, a leading agency in Lake Tahoe. Chase says trophy properties such as Tranquility - her $100 million listing - will still sell, but she expects wealthy buyers to own fewer luxury homes than they did during the boom.
"It's still a buyers' market"
How much did prices drop? Emerald Cay, a private island in the Bahamas, is now listed at $48.5 million, down from $75 million. The Albemarle House in Charlottesville, Va., owned by Patricia Kluge, former wife of media baron John Kluge, has been discounted to $48 million, from $100 million. Those are exceptionally dramatic examples. Most reductions were smaller.
"There are a lot of good deals to be had," says Susan Breitenbach, senior vice-president and associate broker for the Corcoran Group. "It's still a buyers' market and that's what driving it. That's why people are buying now."

Extract from "Vacation Home Market Heating Up According to NAR Survey"
Wednesday, April 7th, 2010

The National Association of Realtors' recent 2010 Investment and Vacation Home Buyers Survey shows that the second home market is heating up. While the number of people making purchases as an investment significantly declined, those buying for lifestyle reasons - namely vacationing in their vacation home - made a strong comeback.

Below is an article from CNBC about the recent report. See the original article here.
The housing slump may be far from over, but vacation homes are suddenly hot again.
Vacation-home sales rose 7.9 percent in 2009 from a year earlier, to 553,000 units, according to the National Association of Realtors (NAR) in its 2010 Investment and Vacation Home Buyers Survey.
"It's a lessening of the fear factor," NAR spokesman Walter Molony said. "After three years of decline, we saw the activity picking up for the first time in November."
Most people are buying vacation property for personal use, not as an investment. Investment sales actually plunged 15.9 percent last year, to 940,000.
"The typical vacation-home buyer is making a lifestyle choice, with nine out of 10 saying they intend to use the property for vacations or as a family retreat," NAR Chief Economist Lawrence Yun said, according to a press release.
Much of the buying was by people in their 30s and 40s who were earning more income. The typical vacation-home buyer in 2009 was 46 years old and had a median household income of $87,500.
Retirement plans may also be a factor. Some 26 percent of vacation-home buyers intend to use the property as a primary residence in the future.
The median transaction price of a vacation home was $169,000 in 2009, compared with $150,000 in 2008.
"The higher vacation home price may reflect increased sales in higher priced markets, particularly in areas of Florida and California where prices became highly attractive for buyers over the past year," Yun said.
Half of vacation homes purchased last year were in the South, 21 percent in the West, 17 percent in the Midwest and 12 percent in the Northeast. Seven out of 10 were detached single-family homes.
Vacation-home buyers plan to keep their property for a median of 16 years while investment buyers plan to hold their property for a median of 12 years.

Extract from "Ski Country's Finest Wines"
Ski net - April 1st 2010

Pair your Park City vacation with a selection from St. Regis Deer Crest's Wine Vault.

The St. Regis Deer Crest is profiting from Park City's newly loosened liquor laws, and its guests will do the same when they pull up a barstool or slide into a red leather banquette inside the hotel's Wine Vault this season. The vault stores more than 5,000 select bottles of wine from around the world, and a light-fare menu helps guests find the right pairing - from charcuterie to rare cheeses - to make the most of each glass. Or partake in the St. Regis Cognac Ritual, a flight of assorted cognacs served alongside housemade chocolate truffles.

Extract from USA Today article: "Base village brings Winter Park ski resort to its peak"
Wednesday, March 31st, 2010

Reporter Larry Olmsted paid a visit to Winter Park earlier this year for a story on second homes in USA Today. Following is the story, which provides a good look at the area and what makes it appealing. The original story can be found online here at USA Today.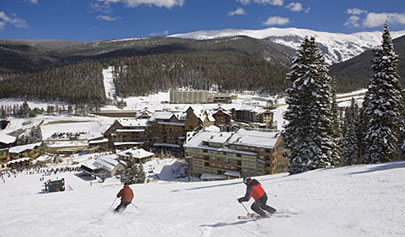 Now, it's not just good skiing: In the past two years, the Winter Park ski resort has started to add an entirely new base village, with shops, restaurants and some of the most reasonably priced slopeside condos of any major resort in Colorado.
Despite being more than 50 miles from Denver, the Winter Park ski resort is actually part of the city. Back in 1939, city officials bought the mountain, located west toward the Rockies, so Denver residents would have a local place to ski.
Although ranked in the nation's top 10, the mountain never made much money from the Denver day-trippers. Without private investment, facilities were tired and the area lacked resort amenities such as hotels, retail and dining. So in 2002, the city partnered with ski operator Intrawest, which has already invested more than $50 million in on-mountain skier improvements.
The bigger change is the new pedestrian base village, with condo hotels, restaurants and shops. Now Winter Park - which had only 230 condos in 2000 - has base-area condos for sale, and more on the way, at prices lower than most Western competitors. The average home price of $450,000 in Grand County is nearly half of nearby Summit
County (where Breckenridge, Copper and Keystone are located) and even less compared
with Eagle (home to upscale Vail, Beaver Creek).
These dramatic changes have also spurred development in downtown Winter Park, 2 miles away, and for 30 more miles up the road, as the popularity of the resort - the closest large mountain to Denver and its airport - has grown.
"Customers coming to the valley now are expecting more in the way of nightlife and restaurants - and they are getting it," Estimates that over 90% of residential real estate built in the last decade are second homes, and several new communities are a direct result of the base-village expansion. The ski resort itself has approvals for 1,300 more residences and, should it get too crowded, for another entire mountain also owned by Denver.
A look at three Winter Park neighborhoods
Slopeside Village: New condos are in two hotel-style complexes and in luxury lofts above the new retail and dining storefronts in the pedestrian village. Since there are no hotels at Winter Park, these can be rented out through the resort to generate income. Two-bedroom condos start around $350,000, while the lofts cost around $670,000. In older buildings, studio condos begin under $150,000. The most luxurious options are the custom homes in Bridger's Cache, averaging about $3 million.
Town of Winter Park: Two miles from the ski area, Winter Park has a store- and restaurant-lined Main Street and numerous condos and single-family houses. The most notable is Grand Park, a 1,700-acre community at the northern end of town with its own village underway. A new four-bedroom house meeting Colorado's "Built Green" certification costs $549,000.
Granby Ranch: This 5,000-acre golf and ski community is 15 miles north in the Highway 40 development corridor. Granby Park has its own small (33 trails) ski resort, SolVista Basin, and many residents use both the skiing here and Winter Park. Slopeside condos start under $200,000, and lots for new houses can be found in the mid-$100,000s.
On the Market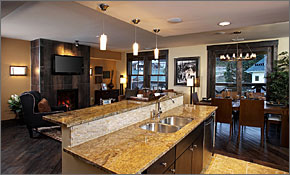 Midrange price: $749,900
This is one of the Lofts at Winter Park, the most luxurious condos now on the market, above the retail area at the base of the mountain in the new pedestrian village.
Bedrooms:

3

Bathrooms:

3

Size:

1,518 square feet

Features:

Two-level design with granite counters and stainless-steel appliances, walnut flooring and large stone fireplace in living room. Two patios and 10-car detached garage.
Extract from "2008-2009 Killington Resort Improvements"
Ski Magazine

Vermont's Killington Resort, the largest ski and snowboard resort in the East, will invest $8.4 million into on-mountain improvements to kick off its 50th birthday season and improve the overall on-mountain experience for the 2008/09 ski and snowboard season.

Skye Peak Express: The New Skye Peak Express replaces the Skye Peak Quad and reduces the ride time from 14 minutes to just less than five minutes, allowing guests improved access to Bear Mountain and Killington's long intermediate cruising trails such as Skyeburst, Cruise Control and Needle's Eye.
The Stash: Burton's signature terrain park, The Stash, comes to Killington. This all-natural terrain park with have 34 features, including tree jibs, road jumps and log slides. The Stash will be accessible from the new Skye Peak Express and is one of only four in the world.
New Magic Carpet at Snowshed: The new Magic Carpet at Snowshed replaces the F-10 Poma lift, providing a more pleasant uphill experience for skiers and riders in Killington's first-time Ski and Snowboard School programs and the Burton Learn to Ride program.
New and reconfigured trails: A number of new trails and enhancements to existing trails will debut for the 2008-09 season. The Snowshed Crossover will be eliminated and replaced with a new beginner trail off the top of Skye Peak. Elimination of the Crossover will allow for uninterrupted skiing and riding on the following trails: The Stash, Skyeburst, Needles's Eye, Cruise Control and Vertigo. The Gateway trail, an intermediate trail off the south side of Skye Peak, will also be extended. Snowmaking will also be installed on all new trails, including The Stash.
Snowmaking improvements: Thousand of feet of new pipe, 84 new Low Energy snow guns and new hardware and software operational controls will allow for greater system efficiency and improved snowmaking production for the World's Most Extensive Snowmaking System. The resulting changes mean less energy used to produce snow and deeper base depth for guests to ski and ride on. Our ongoing snowmaking improvements and use of Low energy snow guns has reduced Killington's diesel consumption by more than 30 percent and electricity by 25 percent over the past three years.
Expanded operations: The Skye Ship Gondola will operate daily from Christmas day through the end of March for the 08-09 season.
Expanded day lodge operations and culinary offerings: Look for new healthy option menu items at both the K-1 and Bear Mountain Day Lodges for the 08-09 season.
Environmental: Killington Resort has purchased 26,199,909 kWh of Renewable Energy Credits (RECs), which will eliminate more than 17,800 tons of carbon dioxide emissions into the atmosphere - an amount equivalent to emissions produced by the annual electricity consumption of approximately 2,079 average homes. Combined with Killington's ongoing environmental initiatives, including Freeaire installation on the resort's walk-in coolers, Compact Florescent Bulb (CFLs) replacement, and expanded use of Low Energy snow guns, the purchase of RECs marks the resort's continued commitment to becoming an industry leader in environmental stewardship.

Extract from "The 10 most beautiful places in America"
May 18, 2003 - Special Travel Report, USA Weekend

It's a nation so blessed with sights - natural and man-made - that you could ask all 300 million residents for their favourites and expect 300 million different answers. So how do you go about picking the country's 10 most beautiful spots?

6. Grafton, Vt.
Had the French explorer Samuel de Champlain arrived in Vermont in the autumn of 1609 instead of summer, he never would have dubbed the land "Vert Mont." In fall, the foothills of the state's namesake Green Mountains blaze red, yellow and orange. Among the choicest spots to take in nature's annual art show is Grafton, right, one of the state's prettiest hamlets and, thanks to the efforts of the non-profit Windham Foundation, arguably its best preserved. The foundation has rehabilitated more than 50 historic buildings, including the Old Tavern at Grafton, a one-time stagecoach stop. Other man-made attractions include the award-winning Grafton Village Cheese factory, a pair of graceful New England churches, a nature museum, a smattering of art galleries and the almost obligatory covered bridge. But the compact village of 600 isn't really about picturesque buildings. It's about the Yankee virtues of simplicity, modesty and saving things that matter. Past and present harmonize sweetly in this vital community. Come fall, you'd swear you can hear the brilliant hillsides singing.

Extract from "Looking for vacation property thats a good investment as well? These communities offer weather, scenery and active real estate markets. Plus: 10 more up-and-comers"
By Liz Pulliam Weston - MSN Money Central, Banking

Popularity is a mixed bag when you're looking for vacation property.

A hot destination means more crowds, more traffic, longer lines. But if you're keeping an eye on investment potential -- and more than one out of three second-home buyers say they are -- then you want to buy where others want to be.

What you really want, though, is to buy today in an area that's going to be hot tomorrow, so what are the ingredients that will turn a sleepy village into the next Aspen or Hilton Head?

A beautiful setting is a must, but here are some other important factors:
Proximity to growing urban centres.

Vacation towns typically need to be within a two- to three-hour drive of a major city, or at least reasonably close to a big airport.

Plenty of recreational opportunities.

There has to be lots of stuff to do beyond shopping, which is why most thriving resort towns are near ski lifts, beaches or mountains. Some cultural cachet -- a theatre or film festival, galleries or museums -- is also nice.

Decent weather.

You have to be able to get outside to enjoy all that recreation.

Significant commercial investment.

The old-timers may grouse about the new hotels or malls, but these are good indicators that others think the community is on the way up.

The "it" factor.

The community gets discovered by movers, shakers and celebrities -- or at least enough other folks like you -- for prices to get bid up.
Consider the following two lists of hot (and potentially hot) vacation home markets compiled by EscapeHomes.com, an online listing service for second homes, timeshares and other vacation property. You'll see some interesting similarities, as well as a few towns that break the rules.
The top 10 towns for second-home investments
EscapeHomes.com identified popular second-home destinations that appreciated at least 10% a year in value between 1998 and 2002 and which may have further to go.

The results are based on their own listings for real estate in these communities. Listings arent sales, though, and EscapeHomes.com doesn't reflect the whole market. In fact, real estate professionals in some of these towns (Asheville, N.C., for example) say sales were never that hot, while those in others (Park City, Utah, and Sunriver, Ore.) say appreciation has slowed in recent years.

Where possible, Ive included price appreciation figures compiled by the federal Office of Federal Housing Enterprise Oversight, which oversees housing finance companies Fannie Mae and Freddie Mac and which compiles housing sales data for larger metropolitan areas.

With all those caveats aside, here are the Top 10 second-home investment markets:
Park City, Utah.

The Olympics-related frenzy has cooled, but Park City is still a preferred destination for skiers and other winter sports fanatics. Prices this year are up between 5% and 7%, according to real estate statistician for the areas Board of Realtors.

Asheville, N.C.

This mountain town boasts the Biltmore Estate and a thriving arts and crafts community. Home prices are up 35% in the past five years, compared with the national median growth of 27.8%.

Ashland, Ore.

Lovely weather, lovelier scenery and cultural cachet combine in Ashland. Located about halfway between Portland and San Francisco, the town is also home to Southern Oregon University and the highly regarded Oregon Shakespeare Festival. Ashlands home values have exploded in recent years. Home prices in the region that includes Ashland and nearby Medford have risen at least 40% since 1998, according to federal figures, while a local appraiser puts Ashlands average home price growth closer to 70% in that period.

Port Townsend, Wash.

This picture-perfect Victorian seaport lay nearly untouched for most of its long history until being discovered by Seattle yuppies in the 1990s. Its still quaint, but relatively mild weather and proximity to Olympic Peninsula attractions have increased its appeal for retirees and urban refugees.

Beaufort, S.C.

You know Beaufort, even if youve never been there. Youve seen it in movies like The Big Chill and Forrest Gump, and youve read about it in the pages of The Prince of Tides and The Great Santini by one-time Beaufort resident Pat Conroy. Fishing, shrimping and a National Historic Landmark District are features of The Queen of the Carolina Sea Islands.

South Lake Tahoe, Calif.

Though it shared Americas largest alpine lake with the more glamorous Lake Tahoe, Nev., this community was long the dowdy little sister. No more. Two new Marriotts have replaced a strip of decaying old motels along the main drag, and theres talk of a convention center. Median home prices are up 21% from last year, said Madeleine Gutierrez, vice president of the South Lake Tahoe Association of Realtors.

Daytona Beach, Fla.

Nineteenth-century industrial barons popularized Daytona, which is probably best known for the international raceway built in 1959 and the Daytona 500 auto race. Eight million visitors pour through annually. Home prices are up 44% in the past five years and nearly 9% in the last year alone.

Sunriver, Ore.

This central Oregon resort area is near Bend and the Mt. Bachelor ski resort, about four hours from Portland and two hours east of Eugene. Whitewater rafting, hiking and skiing are favorite pastimes. Prices on some properties are about double what they were eight years ago, realtors say, but appreciation has slowed down in recent years along with the economy.

Myrtle Beach, S.C.

The beaches along The Grand Strand -- and the areas 120 golf courses -- draw 14 million visitors annually. Despite the crush, Myrtle Beach consistently winds up in various listings of the nations best beaches and best retirement towns, with home prices rising at an 8% annual clip.

Charlevoix, Mich.

This little town lies between the shores of Lake Michigan and Lake Charlevoix in northern Michigan. The population of the town and surrounding area is 8,500 full-time residents -- which climbs to 30,000 in the summer. Golf courses and water fun are the main attractions.

[ Back to top ]