Press articles from France
Extract from "We'll gîte again: Could now be the time to revive that dream of buying a French holiday home?"
By Sophie Morris - Friday 2, July 2010 - The Independant
If you are thinking about buying a second property abroad to treat as a home from home rather than an investment with sound returns, how you plan to travel to and from the new property needs to be high on your search agenda.
France and other parts of the eurozone have for some years seemed out of the reach of British buyers, despite the allure of cheap flights, because of the powerful euro. Your best option now is to future-proof your foreign home while the euro is down by buying within easy reach of the UK by land. Ash clouds, airline strikes and confusion over the shape of the air industry over the coming decades means relying on a plane is not a sturdy long-term plan.
Once you've settled on an area, get moving before you're beaten to it. Though the French property market has been struggling for the past several years, the plunging interest and easy accessibility has already been noted by plenty of UK buyers. In the first quarter of 2010, enquiries from Britons looking to buy in France were up 72 per cent on the final quarter of 2009 and at an all-time high since 2007.
Extract from "Hidden gem of the French Alps - La Chapelle, Sainte Foy"
15th March 2010 - Easier Property
With France unequivocally topping the charts in a recent survey of the top 10 winter ski resort destinations by budget airline easyJet, it seems that the British love affair with the French Alps remains as strong as ever.
Centrally located in the Tarentaise Valley, home to notable resorts including Val d'Isere, Tignes, Les Arcs, La Plagne and La Rosiere, Sainte-Foy-en-Tarentaise has long been the preserve of experienced guides bringing their clients over from Val d'Isere just 10 minutes away to enjoy the famous powder and off-piste skiing available.
This hidden gem is proving not only a popular winter holiday destination but also the ideal second property location due to its ease of access from the UK (under 2 hours drive from Geneva which operates numerous direct budget flights to the UK), year round appeal and property prices up to half that of surrounding areas.
Extract from "Ooh la la! A place in the Alps can be a cosy nest egg"
Sunday, 7 February 2010 - The Independant

Buy and lease-back a ski apartment in France and you could have a money-spinner - but be careful, says Laura Howard
Just when Britain is limping out of recession may not seem the most appropriate time to be snapping up a ski-resort apartment in the French Alps. But if you are looking to supplement a wilting pension or diversify your investment portfolio - or you're just a relatively debt-free mountain lover - it can present an alternative nest egg that's more viable than you might expect.
The key lies with the concept of leaseback which is when a buyer agrees to lease their property back to a management company for year-round rental. This arrangement works especially well in the mountains, which offer skiing during the winter and other activities, such as mountain biking and walking, in the summer.
Under a leaseback arrangement, all running costs, such as utility bills, repairs and maintenance, are met by the management company on the apartment owner's behalf. Property owners will be liable for Taxe Foncière however. which, depending on the region, is charged at between €10 and €30 per square metre a year. Contracts between apartment owners and their management companies must run for a minimum of nine years. After they expire, the contracts are rewritten on newly agreed terms.
The concept was developed by the French government in the 1970s in a bid to encourage individuals to invest in holiday homes that could accommodate the rocketing number of tourists. "France was, and still is, the most visited country in the world - with 83 million tourists annually - and, quite simply, there had to be enough beds for them all," says Nick Leach, the head of business development at Pierre & Vacances (P&V) - France's biggest developer and management company. "The vast majority of our ski homes are still sold to individual buyers on this basis."
The most obvious perk for leaseback property investors is that VAT (usually payable at 19.6 per cent on new-build property in France and between 5 and 14 per cent on renovations) is rebated to the buyer. And with larger management firms, such as P&V, buyers are not required to pay upfront at all.
The other bonus is that buyers are handed a contractual rental guarantee, which is calculated as an annual percentage of the property value. The level of return will vary according to the management company and the proportion of time the apartment is allocated for personal use. The idea however is that potential tourist or snow droughts that would pose a problem for owners renting privately will not be relevant.
But in the aftermath of the credit crunch, investors know all too well that a "guarantee" is only as good as the company issuing it. In the past few years, several smaller leaseback firms, including Transmontagne, Maisons de Biarritz and Immoconcepts, have gone bust. "They were simply unable to keep up with the unrealistic rental guarantees offered to investors - promises of up to 6 per cent in some cases," says Mr Leach.
Insolvency of a management firm is the single biggest risk to a leaseback investor, warns Keith Baker, the vice chairman of the international arm of the National Association of Estate Agents: "You will still be the official owner of the apartment but will either have to find a new management company or meet the charges and organise rental occupation yourself. You may also have to repay a percentage of the VAT that had been rebated. This is because, if the building is not used strictly as a tourist residence for a minimum of 20 years, the rebate no longer applies."
The fact that 100-per-cent mortgages are available on French leaseback homes could also ring alarm bells - though, according to Mr Leach, this is what's helped P&V sell 345 of its 475 Avoriaz apartments already. In reality, the survival of some 100 per cent loans is testament to the conservative stance of French lenders, and lending criteria in France are especially tight.
Clare Nessling, the operations director at Conti Financial Services - an overseas mortgage broker - says: "French lenders will want to see that 35 per cent of your gross monthly income is sufficient to cover the new mortgage and all of your existing liabilities in the UK. Affordability is therefore based on existing debt rather than income levels; that's why France has fared relatively well in the downturn."
The typical minimum deposit when buying via traditional means is 15 per cent of the property value - though 100 per cent loans can be sourced against homes worth over £300,000. Mortgage rates start at 2.45 per cent variable and are slightly higher for 100 per cent deals at around 3.5 per cent, says Ms Nessling.
Getting a mortgage agreement in principal is a good first step, she adds: "It doesn't cost anything and presents you with a budget before you fall head-over-heels in love with a ski apartment."
Whichever route you take, buying fees will apply. If you buy an existing property, "notary fees" - which incorporate all costs including stamp duty and mortgage regulation tax - will amount to between 7 and 10 per cent of the property price, says Mr Leach.
As always, keeping your wits about you is a good idea. You do, however, have a safety net. All homebuyers in France have a seven-day cooling off period after exchange of contracts in which to change their minds.
Skiing mini-break in Morzine, France
By Jeremy Skidmore - 11 Jan 2010 - The Telegraph

To get the most out of weekend skiing you have to spend longer on the piste and get up early, discovers Jeremy Skidmore.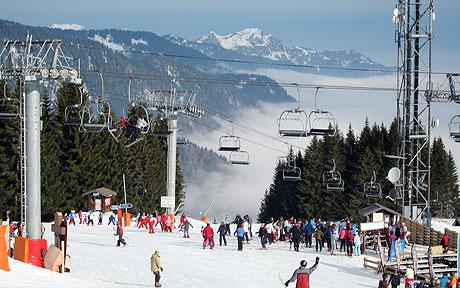 Morzine in France is a relatively low resort at 1,000m
[Photo: REX FEATURES]
I've never skied for less than a week. However, last season, short of cash and time, I downsized my winter break to a long weekend. But would three days on the slopes prove to be satisfying, or not worth the effort?
My companions and I decided on Morzine in France, because, as a relatively low resort at 1,000m, it is more accessible than many. Higher resorts may offer more chance of snow, but they can be three to four hours' drive from the airport, which is not ideal when time is tight.
We also hired a car at Geneva airport, which meant we didn't have to hang around while the last passengers made their way to the transfer bus, and we were at our accommodation within 90 minutes. So far, so good.
One problem with weekend skiing is that not all hotels or chalets offer short breaks, particularly in high season, and both types of accommodation can be restrictive, with set times for meals. For this reason we had opted to stay in an apartment in the Aiglon de Morzine complex. It gave us the option to come and go as we pleased, and it was spacious, comfortable and suitably hi-tech, with Wi-Fi and a home cinema system (though it could have done with a few more coat hooks for wet ski gear).
I've never seen the point in getting up early for "fresh tracks". However, this time I reluctantly agreed that we ought to rise at a decent hour to make the most of our limited time. We resolved, therefore, to be on the mountain by around 9am. Alas, on our first morning there simply wasn't enough snow to find our ski/board legs and many of the runs were icy. Fortunately, we'd been savvy enough to buy a Portes du Soleil ski pass, which not only covers Morzine, but also Avoriaz, Les Gets and several other lesser-known resorts. The pass is not cheap at €112 (£100) for three days, but it means you can flit between villages to make best use of the snow.
Our other secret weapon was the hire car, which meant we were mobile: after our false start, we jumped in and headed for nearby Avoriaz at 1,800m.
There, Les Prodains lift was a good place to start because it took us to a blue run, Crot, a gentle introduction to the day before heading higher to the more challenging blacks and reds.
But within half an hour of the start I was to experience one of my most embarrassing moments on a mountain. I had been forced to unstrap on a blue run at the top of the Mossettes lift which had simply gone too flat for a boarder and walked to the edge of a red, Les Cases, to strap up.
Suddenly, as I was attempting to tie in my left foot, the board escaped from the binding and started hurtling downhill, leaving me marooned on my backside. I made a vain attempt to chase it, but it was far too quick for me, so I waited for it to stop. Unfortunately the board gathered pace, narrowly missing several skiers before eventually coming to a stop half a mile away.
For some reason, my friends found this hilarious, although they had the good grace to ski down to retrieve the board and waited, with their cameras, as I trudged down the hill towards them.
After that monumental embarrassment, there was nothing left but to leave the country, so we headed off to Switzerland. Les Crosets, over the border, is easily reachable from Avoriaz and the more adventurous can go via "The Wall", a black mogul run, at Chavanette. We took the easier option, via a red run called Mossettes.
On the Swiss side, the best runs are only accessible via drags that most boarders will find difficult. Not surprisingly, my skiing colleagues insisted we took them at every opportunity. The Swiss mountain cafés are reasonable but, as we discovered, it's essential to take some Swiss francs as not all accept euros.
Back in Morzine, it was time to change and go out. The resort has, particularly by French standards, a buzzing nightlife. Café Buddha and the inevitable Irish bar are generally packed during the season with young people knocking back large quantities of alcohol. Among the restaurants worth a visit is La Flamme, just off the main street, where a hearty meal and a decent bottle of wine will set you back around €40.
On our second night, a heavy downfall of snow meant we could spend the next couple of days in Morzine which, with its wooded slopes, is far more picturesque than neighbouring resorts. The area has a reputation for being unchallenging, but it's an intermediate's paradise, with fast reds dominating the mountain. Tulipe, at the top of Le Ranfoilly, is highly recommended while its neighbouring run, Sautenailles, is also a great cruiser, but the real fun can be had just off the piste, playing in powder among the trees.
So did our long weekend work? If you're prepared to get up relatively early, have long days on the pistes and enjoy the nightlife, then you'll feel you've had a decent break. But there certainly wasn't enough time to discover everything the Portes du Soleil has to offer - for that I'll need at least another week.
Extract from "Property Abroad: The French Alps"
By Laura Latham - Wednesday, 28 January 2009 - The Independant

The French Alps are ideal for buyers in search of peace
Over the past 10 years the demand for mountain homes has continued to climb to new peaks. Growth in the popularity of the French Alps, in particular, has led to the development of several purpose-built resorts, while towns such as Courchevel and Val d'Isère have become bigger and increasingly glitzy.
However, if you long for more peaceful locations where skiing is more important than partying, you might prefer the feel of the Haute-Savoie hamlet of Le Chinaillon where traditional farms and 100-year-old chalets sit alongside some of the very few newer properties that have crept in. The village is a few minutes from the pleasant town of Grand Bornand, which offers lifts linking to 90 kilometres of pistes within the Les Aravis region.
Ski chalets: Buyer's guide
A new motorway has cut the journey from Geneva airport to Grand Massif to around 50 minutes.
Many ski properties in France are leaseback, so owners receive guaranteed rental income but have a limited number of weeks use each year.
Leaseback contracts typically last 11 years but buyers are exempt from the 19.6 per cent VAT levied on sales.
Most developments have annual community charges, which average around £1,500 but depend on the development and facilities.
[ Back to top ]