Press articles from Canada
Ski Canada: Ski holidays to Big White and Silver Star Mountain Resorts
Published: Telegraph 4:54PM BST 13 Oct 2009

Canada's largest totally ski-in/ski-out resort villages.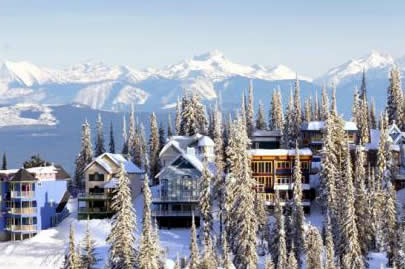 The sister resorts of Big White and Silver Star, in the Okanagan Valley of British Columbia's southern interior, receive more than seven metres of powder snow every winter.
Combine this natural snowfall with 26 lifts, 6,000 acres of varied terrain, average temperature of 23F (-5c) and convenient ski-in/ski-out accommodation, and you have the ideal mixture for a true Canadian ski experience. Bring family and friends.
Big White and Silver Star are award-winning family resorts offering not only some of the best in children's ski programmes, but weekly evening events and family activities, including skating rinks, tube riding, sleigh rides and snowmobile tours.
In British Columbia, Big White Ski Resort is second only to Whistler in resort size. Here you will find a complete alpine village with an impressive array of ski accommodation for more than 17,000 guests and all the amenities required for a memorable ski holiday.
Choose from cosy, good value rooms to full-service hotels, luxury apartments and stand-alone chalets (most with private outdoor hot tubs). Best of all, no matter what the choice, all are within easy reach of the slopes.
Once you've been to Silver Star, you'll probably understand why it's dubbed "My Mountain". With its friendliness and service, Silver Star will make you feel very much at home, even if you don't happen to live in a colourful Victorian-style village yourself.
The skiing is extensive, with more than 3,000 acres to explore. From easy cruising trails to powder glades and winchcat groomed black diamond runs, Silver Star has enough variety to keep you going all day, or all week long.
Market Report: Big White, B.C.
Extract from "A homespun community and a proposed expansion could make Big White the next smart buy"
By Ken Castle - December 2008 SKI Magazine
A winter weekend at Big White resembles a multicultural block party. The snow is cold and bone dry at British Columbia's second-largest ski resort, and a warm community spirit flows - aided, no doubt, by the ample supply of Okanagan Valley wines and Canadian beers. When the lifts close at Big White, the welcome mats roll out. Stroll through almost any neighborhood, and you'll likely find a family hosting dinner for neighbors or an all-comers poker game.
Aussie-owned Big White is still largely unknown to American skiers. But with 16 lifts, 118 runs and 2,765 acres of skiable - largely cruisable - terrain (nearly as much as Steamboat, Colo.), the area is quickly attracting an international cast of residents and regulars. Australian lifties help guests - many from Italy, Germany and Great Britain - onto the chairs with a lively "G'day".
"To us, the magic of Big White is the diversity of the people who come here," says Renee Wasylyk, a 30-something transplanted Californian from Orange County who, with her husband, Jason, built a 3,000-square-foot ski house here a year ago. With a full-time home 45 minutes down the hill in Kelowna, the Wasylyks and their three children spend most winter weekends at their mountain hideaway. "The community is amazing," Renee says. "Sit in a hot tub, and someone will strike up a conversation with you. Next thing you know, you're being invited to dinner."
Like the people, the architecture in Big White is diverse. The ski area "just sort of grew organically over the past 25 years
The houses here aren't what you'd expect in a destination ski resort, and that reveals something about Big White. The Schumann family, the resort's owners, aren't what you'd expect, either. Unlike many corporate resort owners, the Schumanns foster an entrepreneurial approach, eschewing large-scale developers in favor of small builders with big ideas. Thus the residential community is a patchwork of condos, townhouses, cabins and luxury homes that run the gamut of shapes, sizes and themes. One common denominator, though, is easy access to the ski trails. Many are ski-in/ski-out.
Big White's low profile is about to change. Last summer construction began on what will be the tallest ski resort hotel in North America - the 17-story Chateau Blanc, rising from what was once a parking lot. Scheduled to open by 2010, the hotel will include 600 guest rooms, a convention center, multiple restaurants and bars and a casino. Local property owner Ralph Berezan - whose company, Berezan Management Co., is based near Vancouver - is backing the $200 million development.
The hotel will be the third of three resort "nodes," as Paul Plocktis, vice president of resort development at Big White, explains. The first is the original village, where most of the restaurants, bars and shops are located. The second is Happy Valley, with a skating rink, children's snow play area and more restaurants. The three nodes are connected by lifts, making vehicle travel unnecessary and - it is hoped - creating a sense of discovery and variety.
The construction at Big White looks to be outpacing many other destination resorts, and the real-estate boom could soon be matched by an equally ambitious skiing expansion, tentatively called East Peak. According to Plocktis, the resort is about to unveil a master plan that proposes the addition of 2,000 acres of intermediate and advanced terrain on leased provincial land, with construction of the first lift on East Peak to begin in 2010. Plus, the plan makes room for a second base, another residential community and even a golf course. Plocktis notes that the expansion of Kelowna International Airport - which will accommodate direct flights from Europe - makes Big White's growth initiatives viable. The area can absorb the additional skiers and still keep the skiing experience uncrowded, he says.
Big White doesn't have Whistler's nightlife and amenities, but it does offer families plenty of room to roam in a friendly community. Turn your kids loose? No worries, mate.
SNAPSHOT: Big White, B.C.
Population
250 full-time residents, 2,100 residents in winter. The nearest city, Kelowna, 45 minutes away, has a population of 180,000.
Median single-family home price (August 2008): $545,000 Canadian
Annual taxes on median single family home: Approximately $3,000
Access
Kelowna International Airport, 35 miles away, with direct flights from Seattle and seasonal service from several international destinations
New developements
Chateau Blanc: 17-story, full-service luxury hotel under construction.

Big Plans For Big White
By J.P. Squire -The Okanagan Sunday, Sept 2nd 2007

Construction underway on Chateau Blanc, a $200 million, 17-storey hotel with 400+ rooms, a casino & a convention centre.
No surprise: Big White has big plans.
After Patriarch Des Schumann bought under developed, under-utilized Big white ski resort for $4.5 million in 1985, he spent $17 million during the next five years on new facilities including two new high speed quads.
The Schumann family's efforts continued with the addition of the Black Forest Express in 1992 and Falcon Chair in 1994. Under son Peter and daughter Jane, the Gem Lake Express was added in 1996 and more recently, the Snow Ghost Express in 2006.
In between, the family bought Silver Star Mountain Resort and started replacing and adding ski lifts and runs there.
Now its Big White's turn again. Some of the short term plans can be revealed, but long term plans must apparently remain under the cover of snow until the timing is right.
The start of the construction for the Chateau Blanc, a $200 million high-rise hotel, casino and convention centre by Lower Mainland millionaire Ralph Berezan, is one of the keys to major changes.
The sale of that land resulted in the expansion of the Black Forest and Happy Valley parking lots in 2006.
A huge excavation for the Chateau Blanc this summer completed plans for the relocation of the Ridge parking spaces.
"Short term pain for long term gain" is how CEO Kate Davies characterised the innovative plans for the new parking lots during a recent interview with her, Schumann and Paul Plocktis, Vice President of real estate and development.
The teams answer; extend the Ridge Rocket by 600m through a tunnel under Big White Road to four huge parking lots capable of holding another 3000 vehicles.
In case you thought it will take valuable skiing/boarding minutes to walk to the chair lift, Schumann envisages two Magic Carpet like surfaces - one on each side.
That means you could get out of your vehicle, hop on the moving surface and in a few seconds arrive at the bottom of the lift.
Those lots would also connect to the current Happy Valley parking lots, which are serviced by the Happy Valley Gondola.
You could also get down to the relocated Ridge Rocket bottom station via the Serwas run and a new trail west of Snowpine Estates that includes a skier overpass over Big White Road.
Jeremy Hopkinson , Vice President of operations is already looking for a larger gearbox for the Ridge Rocket "so we don't lose any capacity" said Schumann.
Since the Ridge Rocket chairs travel 1000 feet per minute, the extension will add only two minutes of travel time and skiers/boarders will end up near the top of the mountain ready for their first run.
Extending the Ridge rocket "is probably not next summer, but the following one" said Schumann.
A potential lift line has also been preserved so another chair lift, tentatively called the Woodcutter, could carry novice skiers from the West End of the Happy Valley Daylodge to the easy Hummingbird run.
"Kelowna is going through a huge growth spurt, one we know is going to continue for a long time" said Plocktis. "As this economy grows, the only place people are going to go is Big White. Our growth is tied to that of Kelowna"
"We want to provide facilities which are second to none" added Schumann.
As Big White village fills with new residential development, the official community plan allows a new lower Snowpines subdivision below Snowpines and a new 100-lot residential area called Black Country, which butts up to the ski resort boundary. Both would be located South of Big White Road.
The latter will be primarily geared to snowmobilers and separated by natural terrain from the downhill operation and cross country skiers. Lots could be offered for sale during the upcoming ski season.
"The snowmobile trails have already been worked out. Its an amazing piece of terrain for snowmobiling , its very exciting" says Schumann.
The OCP also allows more residential development in the Gem Lake area but the number of lots and timing have not yet been finalised.

[ Back to top ]