Guide to buying a ski property in Canada
Print this page (print friendly)
Basic Facts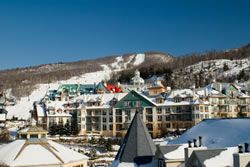 Currency
Canadian Dollar ($) CAD
Time Zone
GMT -2.5 to GMT - 8
Visiting
UK residents are not required to obtain a visa if travelling on business or pleasure, provided they have a return or onward ticket and only spend up to 6 months per year in Canada. Anyone planning to live in Canada beyond this, or on a permanent basis must apply and obtain a Landed Immigration Visa.
Purchasing real estate in Canada, the second largest country on the planet is very easy and straightforward.
This guide will give you a general overview of the purchase process and is meant to provide you with an insight into the steps you will take, as well as answer some of the questions you may have. It is not meant to be a definitive guide to purchasing real estate in the Canada.
For this information, the developers and Agencies we work in the relevant mountain resort will be happy to assist you, from making the offer to closing the sale, rental agency recommendations, lawyers, mortgage contacts and much more.
Types of Mountain Property
Condominium

- the European equivalent to the apartment, these can be anything from studios - 5 bedrooms with surface areas that can exceed even a family home.

Townhouse

- 2 or more semi detached or terraced properties, split over 3 floors, with a surface area smaller than a cabin. Generally lower priced than a Cabin (same resort).

Cabin

- detached property in own grounds, 2 - 3 storeys, with a smaller surface area than a Family Home. Generally lower in price than a Family Home (same resort).

Chalet

- detached property in own grounds built from off plan, 2 -3 storeys, larger surface area than a Cabin with higher specification of interior and exterior.

Custom / Spec Family Home

- detached property in own grounds built from off plan, 2 -3 storeys, larger surface area than a Cabin with higher specification of interior and exterior.

Lot

- A parcel or plot of land that can be built upon
Where and what can you buy
There are very few restrictions on ownership of land and property by non Canadian Citizens in Canada, but some regulations do differ from Province to Province, on the amount of property/land that a non resident can purchase.
For example in British Columbia, Quebec, Newfoundland, Nova Scotia, Ontario and New Brunswick, there are no restrictions on foreign ownership of Canadian property, provided you spend less than 6 months per year in Canada. The exception to this is Banff (British Columbia) where only businesses or employees of the National Park are allowed to purchase property and only through renewable 42 year leases.
Renting your property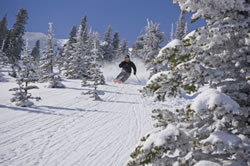 Tourism and travel remains a top industry in Canada and in particular the mountain resorts, where an ever growing number of individuals and families are heading for holiday and vacation purposes.
The subsequent demand for holiday rental ski property has seen a steady increase over the last 25 years in these areas. So if you are looking to rent your mountain property, this can be a very lucrative avenue of real estate ownership
When a purchaser decides to rent their property, it can be 'short-term' or long term. Short term is usually weekend(s) and/or a week at a time, especially holiday weeks. Long term would be for the entire season (such as ski season, summer or fall).
Generally rentals are based on how many 'beds'/ how many people can sleep at the property; any amenity that the property has...like woodstove, fireplace, hot tub, convenience to a resort, or snowmobile trail etc.
For a season, the renter pays for the first and last month's rent plus damage deposit 'up front' before the tenant moves in to the property. They may also pay for all of the utilities and maintenance of the property, if the owner requires it.
At the end of the season, and once the property has been inspected and if there is no damage, then the owner simply sends them a cheque. If there is money owed to the owner for utilities, that amount would then be deducted from their security deposit.
Size of Properties
As in the USA, surface area is measured in Square Feet (Sq Ft) in Canada instead of Metres Squared (m2). For the easiest way to get a rough estimate to switch from Sq Ft to m2, simply divide by 10.
The Buying Process
The property buying process in Canada is quick, simple and cheap but does differ from that in the UK. There are also some differences between different Provinces, so it is always worth discussing this with your lawyer or Realtor.
Selecting the Realtor (Real Estate Agent)
Unless purchasing directly from a developer, anyone making a purchase of any kind of real estate in Canada needs to engage a qualified and licensed Realtor (Estate Agent). All of the Realtors and Brokers we work with are suitably qualified to assist you.
Unlike in the UK, most properties are available for all agents and realtor's to sell. Thus there is no need to contact multiple agents as this will prove time consuming for you with duplicate properties being presented. The Realtors we work with have access to all of the available properties in the relevant area/resort and will be happy to assist you in your search.
Trust your Realtor
You should always trust your Realtor and listen to their recommendations using their knowledge and experience to your advantage.
Make a list of your requirements and provide information on:
price range,
location (ski in and out/drive to mountain),
number of bedrooms/bathrooms,
size of property,
proximity to resort/city centre
type of property (Condo, townhouse etc).
do you want to rent the property
Also ensure you provide details of the "must have" things, such as amazing views, garage etc.
All of these details allow our Realtors to pull together a good cross section of properties to show you.
Purchase and Sale Contract
In Canada, Real Estate cannot be sold in the absence of a written contract. When Residential property is sold this usually takes the form of a standard contract.
Once you have found the property you wish to purchase, you will make an offer and a Purchase of Sale Contract will be drawn up that includes:
Signature of both buyer and seller,
the address of the property
chattels included - items staying in the property
the amount of the sale price
an amount of an initial earnest money deposit,
a second deposit, if required
closing date,
acceptance time of the offer
This legally binding document commits both Buyer and Seller to the sale and usually includes certain subject clauses written into the contract such as:
The buyer not obtaining satisfactory financing
Satisfactory building inspection paid for by the Buyer
Condominium documentation being provided to the Buyer for approval
Satisfactory Title Search
The buyer must be aware that they must adhere to all dates and conditions laid out in the Contract otherwise it can allow the seller to withdraw, in particular if a better offer arises.
When the acceptable offer/contract is agreed between the buyer and seller, a small deposit is normally paid into a:
Trust account controlled by the Agent / Realtor
Lawyer
This is normally around 10% of the purchase price and will remain in the account until the Closing of the Sale and forms part of the purchase price.
Frequently, when the Buyer is an out-of-Province purchaser, and they do not plan to attend a closing, the purchaser will receive documents to be signed in the presence of a Notary or Lawyer. The purchaser's representative [such as their Realtor] will conduct a 'walk through' before the closing to make sure that everything that was agreed upon, was in fact, done.
Survey/Inspection Report
When purchasing Real Estate in Canada, the general practice and law in most Provinces is that the purchaser accepts the property in the state it is in at the time of the contract of sale is finalised. The buyer purchases the property in the condition it is in and cannot complain or seek compensation about significant defects after the buyer and seller close the deal.
One exception to this rule is it is not permissible for the seller to wilfully and intentionally withhold information about significant defects and problems associated with the property.
For this purpose it is strongly recommended that an Inspection Report (survey) is carried out on the property and this is paid for by the Buyer. You can discuss the Buyers Inspection period with the Agent / Realtor acting on your behalf, but typically this period tends to run for up to 14 days from the point the contract is accepted.
The Inspection should look at:
structural defects
Electrical and Plumbing Systems
Interior and Exterior inspection
Heating Systems
Appliance Plastic Operation
Buyers cannot expect sellers to make all of the repairs demanded and will be negotiated between the Buyer and Seller. All agreed actions, should be documented in the sales agreement.
Closing the Sale
This is the process that transfers ownership of the property from the seller to the buyer and moves the deposit and balance of funds to the Seller.
The closing date is the date when all contract obligations and duties need to be completed and is usually 30 days from signing the contract, but this is not law. The closing date is agreed by both parties on signing the contract and is a mutually suitable timeframe for both.
At the time of closing, the Seller must ensure the Title of the Real Estate is clean and the Buyer have their finances ready.
Transaction Costs as a Buyer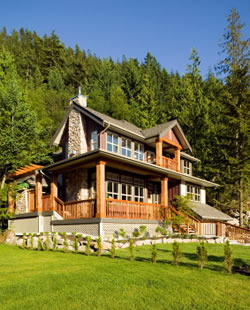 The costs for purchasing a property in Canada vary from Province to Province. The details below offer a general guide:
Purchase Tax otherwise known as Property Tax or Land Transfer Tax of 0.5 - 2% is payable
A Harmonised Sales Tax (combination of Goods and Services Tax (GST) and Provincial Sales Tax (PST)) of 12 - 15% is usually included in the price of new or substantially renovated properties throughout the Provinces of New Brunswick, Nova Scotia, Labrador and Newfoundland and British Columbia (as of 1st July 2010)*
Attorney's Fees (allow 0.5 % of the purchase price)
Survey Fee required by the lender. If the Seller does not have one you will have to pay for one (around $150 - $350)
Appraisal Fee may also be required by the lender (around $150 - $250)
Estoppel Certificate Fee outlining a condominium corporations legal and financial state of affairs (around $100)
UK Lawyer fees
Home Inspection Report ( around $500)
Mortgage (application fee, credit report etc)
Foreign Exchange transfer fees
*HST can be reduced or avoided under certain conditions. If a buyer commits the new property to a rental pool and utilises the property for less than 10% of the year, the home is classified as a commercial property. The HST can be deferred indefinitely.
As a general rule of thumb, the buyer should allow 1 - 3% of the purchase price to cover costs.
Please note, Alpine Property Investments takes a referral fee from the Buyers Realtor for any purchase made and we do not ask the buyer for any fees.
Transaction Costs as a Seller
No fees are paid by the buyer to either the Realtor acting on behalf of the buyer or the seller. These fees are paid by the seller and amount to 3 - 7% (+12 -15% HST). Both Realtors acting on behalf of the buyer and seller receive an equal split of the commission paid. Where a Realtor is acting on behalf of the buyer and seller, they are legally obliged to notify both parties of their position.
Clearance Certificate from the Canada Revenue Agency (CRA). This depends on the complexity of the sale, but amounts to approx $300 - 1000. Without the Clearance Certificate which can take 6 - 8 weeks, the buyer is required to withhold 25 - 50% of the selling price.
Legal Fees of 0.5 - 1%
As a general rule of thumb, the seller should allow 3.75 - 8.5% of the purchase price to cover costs.
A non Resident seller is obliged to submit a Canadian Income Tax Return for the year in which the sale occurred and should expect to receive a refund of a portion of the taxes paid.
Finance
Unless purchasing with cash, one important step anyone interested in buying property in Canada should do before viewing property, is to obtain a financial commitment from a recognised lender known as pre qualification. This enhances your credibility in the eyes of the Realtor and Seller.
For prequalification you will need a copy of your credit report which can be obtained online for a nominal fee. Some lenders will do this over the phone while others ask to meet you in person.
During the pre-qualification process you will need to provide details about your income, debts and assets. This will allow the lender to determine:
Your down payment
Interest Rate and loan options
How much you can borrow
The value of the property you can afford to purchase
Monthly payments
It is always worth selecting a couple of lenders to speak with and the Realtors we work with in will be happy to put you in touch with local contacts particularly as the procedure and requirements of getting a mortgage from local lenders varies, from Province to Province.
While the effects of the subprime mortgage collapse and global economic problems have made lending more strict and
difficult, LTV's (Loan to Value) of up to 65% are still available for non Canadian residents, subject to an individual's circumstances.
Taxes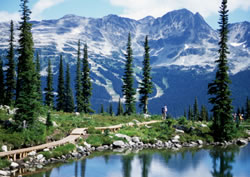 Working with several different currency brokers who have helped many clients over the years, we would be happy to make appropriate introductions should you wish. Please contact us for details.
Annual Taxes in Canada as in any country are complex and vary dependant on where you purchase and whether you are a resident or not.
It is essential for Buyers to consult a tax expert when purchasing their property and the Agents / Realtors we work with can assist you with this during your visit.
Annual Local Tax
Residential properties are subject to annual local taxes of between 0.5 - 2.5% of the property value dependant on the Province.
Rental Tax
All non Canadian residents pay income tax on their rental income.
If an owner elects to pay Income Tax through Section 216 Income Tax Act and file their own tax return, the non resident is taxed on their net rental income according to the Federal Tax Rates.
Expenses such as Capital Cost Allowance (CCA), advertising, insurance, interest, maintenance and repair costs, management, administration and legal fees, office expenses, annual property taxes, travel and utilities amongst others can be offset against this.
The CCA is otherwise known as the depreciation allowance where only 50% of the property is depreciable for the year of acquisition. The maximum CCA is that which takes the tax owing to zero. Rental buildings may belong to different classes depending on structure and purchase date. Many of the buildings post 1987 are identified as class 1 and are depreciated at 4% with furniture and equipment depreciated at 20%.
For those non residents electing to take the 216 Income Tax Act route, they are also liable to pay a 48% tax on their federal tax liability but are not liable for to pay provincial taxes.
Payment of Rental Tax can also be paid by the tenant or property manager and this "withholding tax" is considered your final obligation to Canada. This however is paid on the "gross" rental income.
Canada's very comprehensive double taxation treaty with the UK, may allow reduced UK liability.
Inheritance Tax
There is no Inheritance or Estate Tax in Canada. However there maybe tax to pay in the Country of Residence.
Capitals Gains Tax
Only 50% is liable to tax at your marginal tax rate in the year of the gain. It is possible to deduct selling and purchase costs, capital expenditures and costs incurred during improvements and renovations.
In addition to the above taxes, buyers also need to budget in the annual expenses such as property insurance and utilities. In the case of condominiums, there are also fees to cover building insurance and maintenance.
For more information on our properties for sale at Big White please visit our properties for sale.
[ Back to top ]